Rev. Keishi Miyamoto, President of Arigatou International, spoke on the significance of religion for keeping children safe in today's digital world during the Faith Leaders' Summit at the conclusion of the global conference of the Interfaith Alliance for Safer Communities on protecting child dignity online. The conference, which took place November 19-20, 2018 in Abu Dhabi in the United Arab Emirates, was held under the patronage of His Highness Sheikh Mohammed bin Zayed Al Nahyan, Crown Prince of Abu Dhabi and Deputy Supreme Commander of the United Arab Emirates (U.A.E) Armed Forces, and co-organized by Arigatou International and other partners.
The conference brought together 450 participants including religious leaders, representatives from international and grassroots organizations, governments, faith-inspired organizations, peace practitioners and heads of industry and business entities to discuss the world's social challenges and develop comprehensive solutions for protecting children and youth from online exploitation and cybercrime.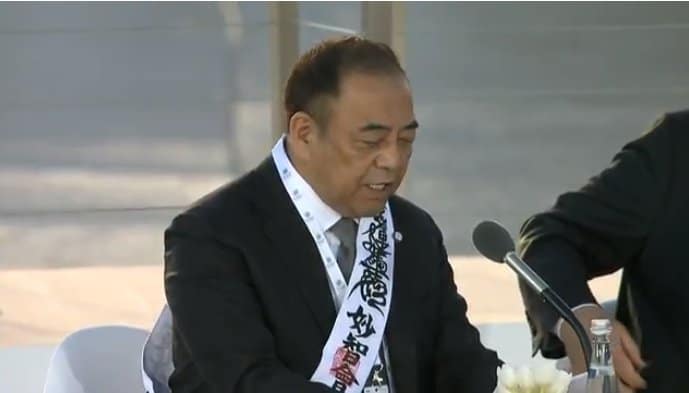 Rev. Keishi Miyamoto, President of Arigatou InternationalRev. Miyamoto first expressed his gratitude for the opportunity to speak and his deep appreciation that Arigatou International had been selected as a partner organization to help plan and organize the conference. He went on to describe Arigatou International's mission to build a peaceful world where every child can grow up safe and sound and pursue happiness. He touched on the progress of science and medicine, noting that, although they can inform us about what happens in the world, they cannot give us a vision for what the world ought to be like.
Rev. Miyamoto then posed the question: "What, then, can give us ultimate guidance on what to do with our lives, our precious, finite lives?" His answer was that religion is more needed today than ever before.
"In the pursuit of ultimate happiness, religion is needed, as long as humankind exists. There is a certain glorious joy to be experienced when realizing the pure blessing it is to have been born as a human being — here one can understand true happiness, the meaning and purpose of life. This same joy also makes clear the root causes of greed, anger and envy. So, in a world where science and medicine have made great progress, I am completely convinced that religion can be more helpful than ever, especially for the children, who are the future of humanity, and that religious leaders must do much more for children."
Finally, he expressed his wish for the conference to result in finding solutions to all the challenges of keeping children safe in today's digital world and vowed to support this effort in every way possible through both prayer and action.
The other speakers alongside Rev. Miyamoto at the Faith Leaders' Summit were Her Holiness Mata Amritanandamayi (Hindu Spiritual Leader), Bhai Sahib Bhai Dr. Mohinder Singh, OBE KSG (Chairman, Guru Nanak Nishkam Sewak Jatha), Rabbi Michael Schudrich (Chief Rabbi of Poland), His Eminence Metropolitan Emmanuel (Metropolitan of the Greek Orthodox Metropolis of France), and Prof. Dr. Ahmad Al–Tayib (Imam, Al-Azhar Grand Mosque, Cairo).
The conference was co-organized by a number of global organizations including Al Azhar University, Arigatou International, Global Partnership to End Violence Against Children, Gregorian University, International Justice Mission, Religions for Peace International, Shanti Ashram, The Center for Child Protection of the Pontifical Gregorian University, The Child Dignity Alliance, UNICEF, WePROTECT Global Alliance and World Vision International.