COMUNICADO DE IMPRENSA
Tóquio, 21 de abril de 2020
Arigatou International e sua Rede Global de Religiões a Favor da Infância, juntamente com várias organizações religiosas e inter-religiosas, estão organizando uma Oração Inter-Religiosa ao Vivo com Crianças na quarta-feira, 22 de abril, às 08.00 EST / 14.00 CET. A oração será transmitida ao vivo no YouTube e no Facebook.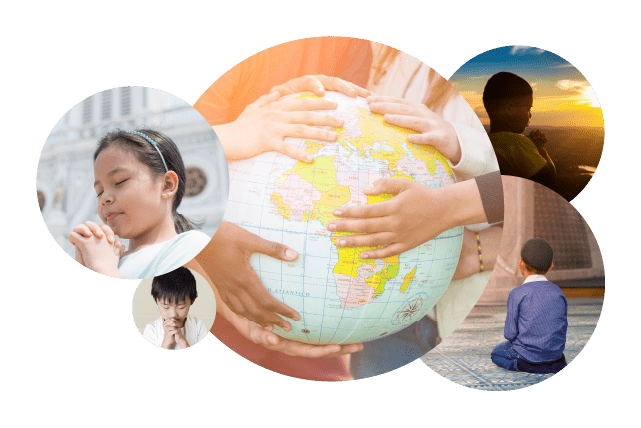 Esta oração inter-religiosa reunirá crianças de diferentes países que representam diversas tradições religiosas, incluindo a Fé Bahá'í, Budismo, Cristianismo, Hinduísmo, Islamismo, Judaísmo e da Fé Sikh.
"Agora, mais do que nunca, devemos promover a solidariedade de uma mesma comunidade humana, agir em conjunto e ouvir as crianças: elas fazem parte da solução para promover a solidariedade global", lembra o Rev. Keishi Miyamoto, presidente da Arigatou International.
As crianças darão as mãos para orar e oferecerão uma mensagem de esperança e solidariedade para com as pessoas e crianças em todo o mundo. Acompanhando as crianças na oração, estarão líderes religiosos seniores de suas respectivas comunidades de fé.
O Reverendíssimo Julio Murray, Bispo do Panamá e Primaz da Igreja Anglicana na região da América Central, abrirá e liderará a oração inter-religiosa. Também serão compartilhadas declarações de solidariedade de representantes de organizações parceiras para enviar uma mensagem de unidade para as crianças do mundo.
A Oração Inter-religiosa faz parte da Campanha Global "Fé em Ação pelas Crianças", lançada pela Arigatou International, para exortar líderes religiosos e comunidades religiosas a priorizar o bem-estar das crianças, enquanto respondem ao impacto da pandemia do COVID-19. A campanha baseia-se no importante papel que a fé desempenha em situações de emergência para fortalecer a resiliência das crianças e nas contribuições cruciais dos líderes religiosos para influenciar positivamente seus milhões de seguidores e ajudar a proteger as crianças da violência.
A Campanha apoia os esforços globais e locais para impedir a propagação do COVID-19 e fornece orientação aos pais e cuidadores, além de focar na prevenção da violência contra crianças. Sabemos que hoje as crianças estão entre os grupos mais vulneráveis ​​a serem afetados negativamente pela pandemia. Muitas crianças e suas famílias estão presas em suas casas e, atualmente, cerca de 90% das crianças em idade escolar do mundo não frequentam a escola. Segundo numerosos relatos recentes, a violência contra mulheres e crianças está aumentando como um efeito indireto da pandemia.
A Oração Inter-religiosa é organizada em colaboração com a Bahá'í International Community, o Centre for Sustainable Conflict Resolution, International Network of Engaged Buddhists (INEB), Interfaith Alliance for Safer Communities, Islamic Relief worldwide, International Centre for Interreligious Dialogue (KAICIID), New York Board of Rabbis, Pastoral da Criança, Sarvodaya Shramadana Movement, Shanti Ashram, e United Religions Initiative.
Participe da Oração Inter-religiosa através deste link:
https://arigatouinternational.org/en/live-interfaith-prayer
ou através do YouTube e Facebook.
Para mais informações sobre a Campanha global, Fé em Ação pelas Crianças, por favor consulte:
https://arigatouinternational.org/en/response-to-covid19
Para mais informações contate:
Sra. Eleonora Mura
Oficial de Programas de Relações
Arigatou International Genebra
E-mail: e.mura(at)arigatouinternational.org
Celular: +41 22 734 94 10