Committed to following the recommendation that children gave us during the Global Week in November 2020 to create ways to continue in contact and listening to them, during 2021 Arigatou International has been organizing virtual gatherings for children to share their views and feelings about the impacts of the COVID-19 pandemic in their lives, and to listen to the experiences of their peers in other parts of the world.
From April to June 2021, we have engaged more than 90 children from 13 countries in dialogues to reflect together on how we can support children to address the challenges they are facing due to the pandemic. These dialogues will continue throughout the year.
The Global Week of Faith in Action for Children, organized by Arigatou International in November 2020, concluded with a Statement that comprises 11 recommendations from young people to support children to cope with the impacts of the Covid-19 pandemic. Among other things, children recommend: "listen with an open heart to us", "create ways to continue to stay in contact with us despite the disruptions", and "make more opportunities for dialogue…".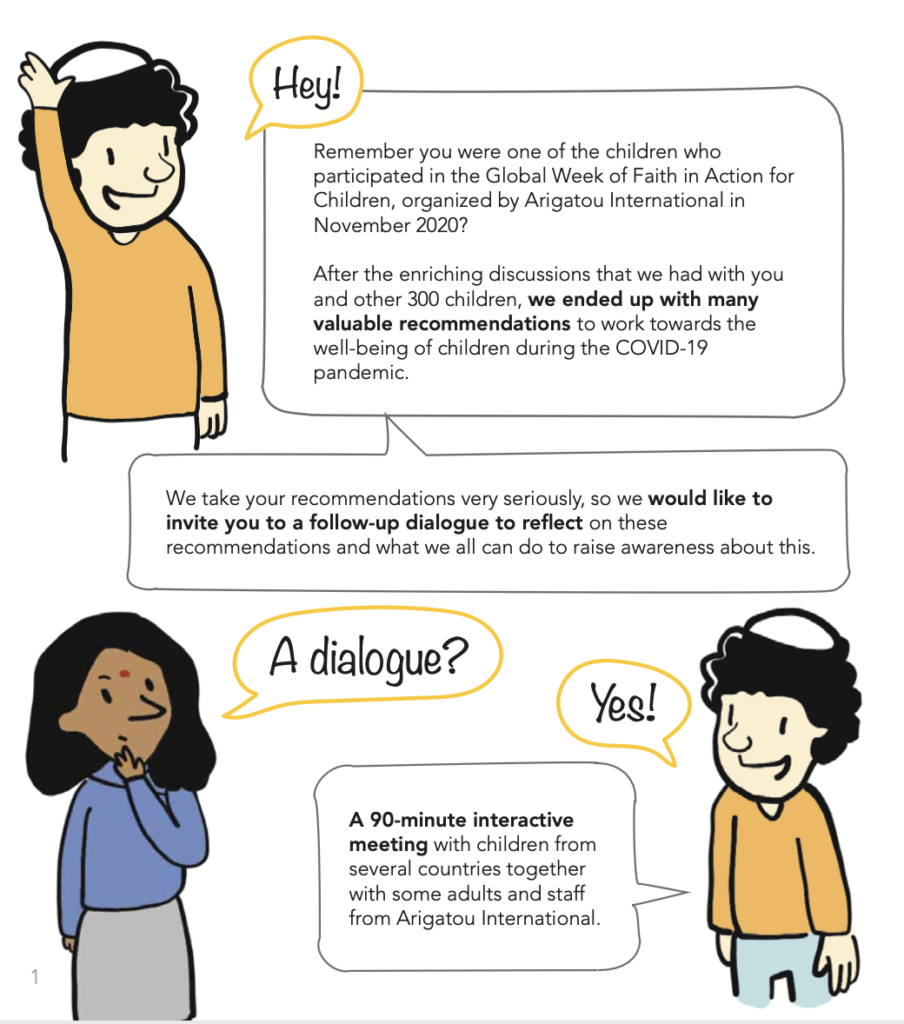 During these online sessions, children have had the opportunity to share their views about the pandemic, how this has impacted their lives and their communities, and how adults can support them to cope with the difficulties that the current times have presented to them.
Most of them reported that they are exclusively attending classes online. "Because school is conducted online, and some children don't have laptops or internet, they cannot attend school", exposed Naya, from Indonesia.
The children reflected on how the pandemic has impacted their emotional and physiological wellbeing and how it has put many children at risk of becoming victims of violence.
Children in Ecuador reported that due to online schooling some of their peers are not having opportunities to freely talk to teachers or social workers alone, as they would have done before when they attended schools. The isolation makes it more difficult for them to report cases of domestic violence or other types of abuses.
Poverty and hunger are also affecting children during these times. "In our country, many children are not having access to nutritional food", explained Vivehaa, from India, and stressed the importance of following the recommendation from the Global Week about providing support to the most vulnerable families, including with financial support and nutrition.
Some of the sessions promote intergenerational dialogues for adults to also discuss how the Covid-19 pandemic has impacted children at the cognitive, social, emotional, and spiritual levels as well as their relations with themselves, others, and the world.
Adults reported that children are being affected by depression and anxiety due to isolation and that online gaming is becoming more present in the lives of many of them who have to stay long hours at home and, in some cases, alone.
Adults also exposed that those children attending schools are confined to the classroom, not able to play and freely interact with one another. Children learning in online settings face a lack of focus, engagement, and motivation to learn and interact. Some children who did not have access to education during this period, have difficulties remembering their friend's name, reported some participants.
These sessions have involved children in Colombia, Ecuador, India, Indonesia, Mexico, Nicaragua, Panama, Pakistan, Peru, Romania, Serbia, Uganda, and Tanzania. In the upcoming months, more dialogues will be held in English, Spanish, and Portuguese as part of our commitment to creating spaces where children can fully express themselves, participate, engage with people of different cultures and beliefs, and become actively involved in our work.