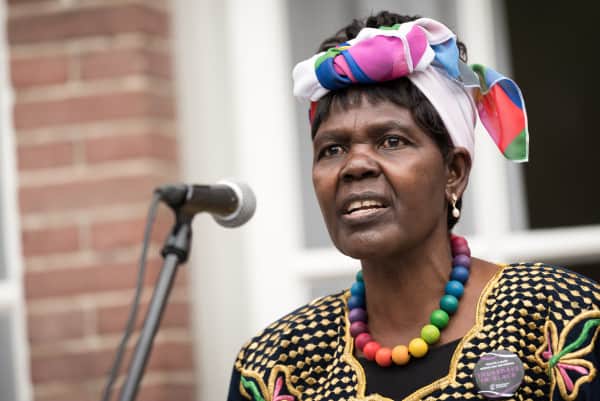 Dear Family of Dr. Agnes Abuom, the Ecumenical Fraternity and the Global Community of Faith,
We were deeply saddened to learn of the passing of Dr. Agnes Abuom, a remarkable woman whose dedication and passion have left an indelible mark on the world. We at Arigatou International, extend our heartfelt condolences to her family and the entire ecumenical community during this time of profound loss.
Dr. Abuom's contributions to Arigatou International, as a member of our Advisory Board, were invaluable. Her exceptional leadership and unwavering commitment to the pursuit of justice and peace were genuinely inspiring. Her presence and guidance will be deeply missed as we continue our mission to foster a world where the rights and well-being of every child are upheld.
Throughout her distinguished career, Dr. Abuom exhibited extraordinary leadership, serving as the Moderator of the World Council of Churches Central Committee, among many other important roles in various ecumenical bodies and the Anglican Church. She was a beacon of wisdom, clarity, diplomacy, courage, humility, and righteousness. Her profound impact reached far beyond her local community, influencing interfaith spaces globally and shining a light on the African faith community.
Dr. Abuom's passion for justice and her tireless efforts to promote unity and understanding among different religious traditions were a blessing to humanity. She was a true advocate for the marginalized and a symbol of hope for those who yearned for a more just and inclusive world. Her legacy will continue to inspire generations to come.
During this difficult time, know that our thoughts and prayers are with Dr. Abuom's family and the global community of faith. May you find solace in the memories you shared and in the knowledge that her profound impact on the world will forever remain.
With deepest sympathies,
Arigatou International