The Children's Solutions Lab (CLS) aims to support young people in taking action to address poverty affecting children in their communities through solutions based on education.
The CSL seeks to promote ethical reflections among children about the root causes of poverty and how some cultural norms can impact the wellbeing of children and, ultimately, lead to child poverty. The initiative also aims to support children in finding local solutions to address these issues in their communities.
Through an open call, children's groups around the world are invited to submit projects led by them that can propose context-sensitive and unique solutions to poverty affecting children in their communities. The projects are expected to address the ethical challenges and the cultural norms that can lead to poverty and suggest solutions for this based on education.
The CSL seeks to enhance, promote, and support opportunities for child-led actions.
Working with groups of children? You can involve them in this process by following three simple steps: (1) organize a CSL event, (2) support children to design a project, and (3) submit children's application
1. Promote child participation
Create meaningful, participatory spaces and opportunities where children are empowered to lead, develop and implement relevant actions.
You can start by organizing a Children's Solutions Lab event for children to discuss if and how poverty is affecting their peers in their community.
These are some questions that the dialogue should aim to address:
Are there social and cultural norms in our community that can contribute to aggravating child poverty?
How can education improve the conditions of children impacted by poverty?
During your CSL event, ensure diversity within the group of children involved and follow safeguarding practices. We invite you to review our Safeguarding Policy here and to check this Guide to Apply with more recommendations and an example of the agenda for your event with children.
The dialogue should motivate the children to identify solutions to address child poverty through education. Children should be encouraged to put their solutions together into a cohesive and feasible project that they can submit for our international selection process. If selected, the children's project will receive technical support and small-scale funding for its implementation.
2. Submit a child-led project
Once the children have drafted their project, support them to apply for one of our CSL micro-grants and mentoring opportunities. Make sure that the project and application meet the selection criteria.
SELECTION CRITERIA
The project must be led by a group of 4 or more children (below 18 years of age) and must reflect genuine efforts to ensure the highest possible level of child participation.
Solutions must be focused on how education can contribute to ending poverty affecting children
Preference will be given to solutions led by diverse groups of children (groups that show religious and cultural diversity as well as gender, age, and ethnic diversity)
The project must be innovative and with the potential to be sustainable and replicable
The project must be relevant and sensitive to the local context of the applicants.
Feasible to complete implementation in a period of four months and before the end of 2022.
The application form consists of several questions that you can read prepare in advance. Check our Guide to Apply to see all the questions and guidelines. You are also welcome to join our Informative Session, on February 25, 2022, to clear all your doubts about the process. Register here.
3. Support children during implementation
If the children's project is selected, together with a micro-grant the children's group will also receive support and mentoring from Arigatou International. This includes, among other things, support in collecting their stories and documenting their experiences.
Your support as an adult is also fundamental. Here are some guidelines you should consider while designing, implementing, monitoring, and evaluating the child-led project:
It is important that the project is sensitive to the local context by looking at how the context can be proactively brought into the design and implementation.
While supporting the children, nurture horizontal relationships with them. Promote shared power that fosters children's sense of self-worth and self-knowledge, recognizing individual differences while respecting each other.
Make sure that the participation is safe and sensitive to risks as well as transparent and voluntary. Make sure the children and their parents/legal guardians understand the purpose of their participation, and that the children voluntarily agree to engage in the activities.
We encourage you to consider supporting the implementation of the children's project even if their solution was not selected to receive a micro-grant.  
We invite you to read our Guidelines for Design, Implementation, and M&E before the children start implementing the project (Available soon). 

Frequently Asked Questions
Looking for inspiration? Learn more about the projects we supported in 2021 and 2022 and the amazing children who implemented them
Projects implemented in 2022
The second edition of the Children's Solutions Lab was launched in April 2022. 84 groups from 38 countries applied for a microgrant. Five groups of children were selected and they started the implementation of their solutions in the third quarter of the year. Children are expected to complete the implementation by early 2023.
Lead team: 5 girls and 4 boys
Micro-grant received: 500 USD
Lead team: 5 girls and 1 boy
Micro-grant received: 1500 USD
Lead team: 6 children
Micro-grant received: 500 USD
Lead team: 25 children
Micro-grant received: 1500 USD
Lead team: 6 girls and 1 boy
Micro-grant received: 2000 USD
Projects implemented in 2021
The Children's Solutions Lab was launched for the first time in September 2020 and five child-led projects were selected. In 2021 these projects were successfully implemented by groups of children in Cuba, India, Kenya, Peru, and Serbia, with the unwavering support of committed adults in each of these locations.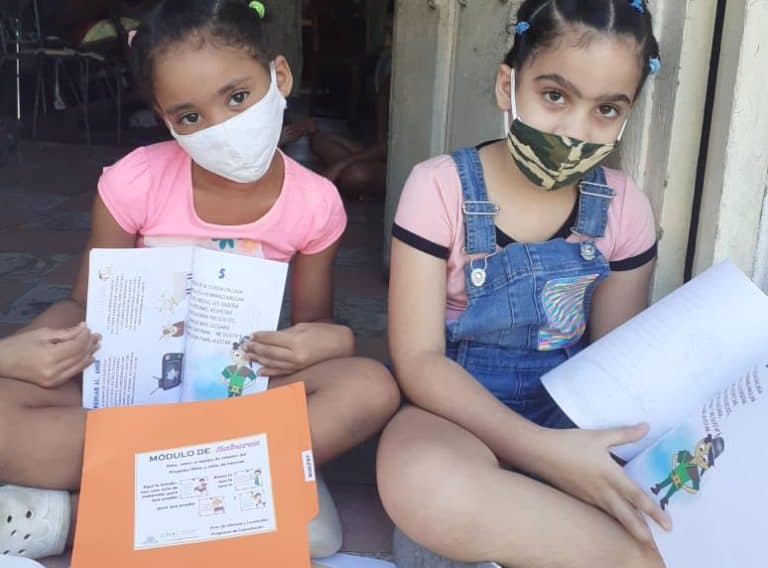 The Children of the Internet
Location: Cuba
Lead team: 3 girls and 3 boys
Micro-grant received: 1500 USD
Supporting organization:  GNRC Cuba – Centro Cristiano de Servicio y Capacitación B. G. Lavastida
Project's objective:
To offer printed educational materials to children with digital disadvantages during COVID-19 school closures.
………………………………
The children began the first phase of the project by identifying and visiting socially disadvantaged children. They researched and decided upon the materials and they created informative educational folders which they then delivered to the beneficiaries to support their education.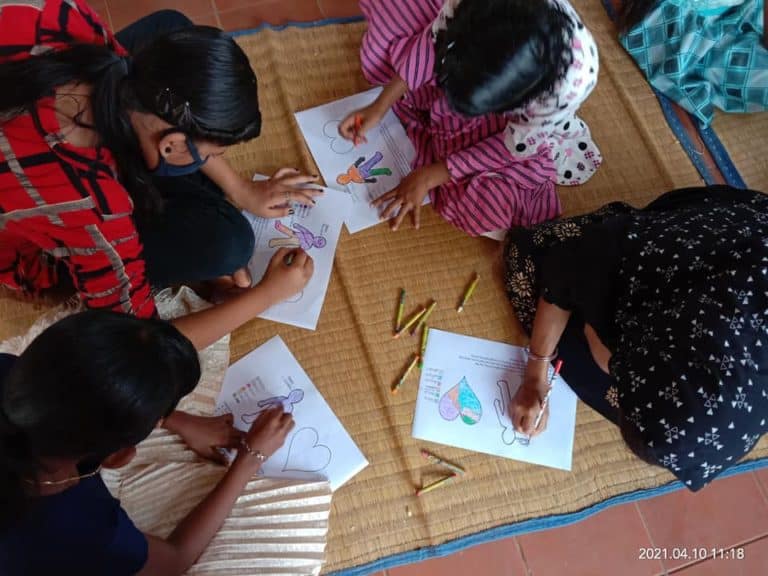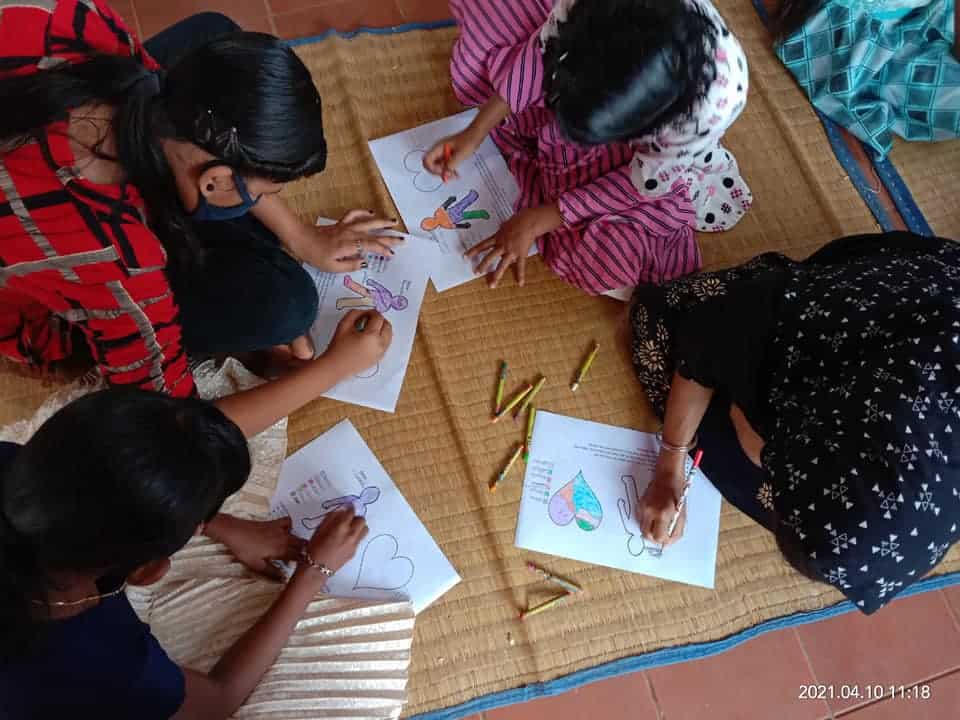 Location: India
Lead team: 5 children between 13-17 years old
Micro-grant received: 1500 USD
Supporting organization: Shanti Ashram
Project's objective:
To support children's education disrupted by school closures by extracurricular activities
………………………………
More than 300 children from nine villages engaged in brainstorming sessions organized by the Children's Parliament in India, to think about what could be done to address local issues related to education, health care, and livelihoods aggravated by the school closures and restrictions imposed due to the Covid-19 pandemic.
Don't Marry them, educate them!
Location: Kenya
Lead team: 7 girls and 4 boy
Micro-grant received: 500 USD
Supporting organization:  Silver Lining Kenya
Project's objective:
To advocate against the practice of child and forced marriages and for the importance of educating children to break the cycle of poverty and uphold the rights of children
Gardening to tackle poverty
Location: Peru
Lead team: 2 girls and 2 boys
Micro-grant received: 500 USD
Supporting organization:  Christ the Savior Church
Project's objective:
To help tackle poverty in the community through community gardening, and support children's learning with a mobile library during school closures due to COVID-19.
Spreading joy all year round
Location: Serbia
Lead team: 2 girls and 2 boys
Micro-grant received: 500 USD
Supporting organization:  Sombor Educational Center (SEC)
Project's objective:
To collect school supplies and equipment to distribute them children coming from disadvantaged backgrounds affected by the Covid-19 pandemic. 
REPORT A SAFEGUARDING CONCERN
Learn what to do if you have a concern regarding the safety of children involved in our programs or fill out our form to report a case of abuse.