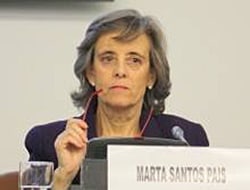 The NGO Working Group on Children and Violence of Child Rights Connect, co-convened by Arigatou International and World Vision International, organized its regular meeting with Ms. Marta Santos Pais, Special Representative of the United Nations Secretary General on Violence Against Children on 9 March in Geneva.
Representatives from 11 NGOs and staff members from the office of the Special Representative of the Secretary General on Violence Against Children (SRSG/VAC) attended the meeting at the United Nations, to learn about priorities and future plans of Ms. Santos Pais' Office, share information on the work of NGOs in Geneva and explore ways to continue supporting the mandate of the SRSG/VAC.
The meeting started with a round table of introductions and updates from each organization, followed by a discussion on the Post-2015 Global Sustainable Development Agenda that will be finalized at the end of September 2015. Despite violence against children being currently recognized as a distinct goal (16.2), Ms. Santos Pais expressed that as the final negotiations take place, more work needs to be done to ensure that the goal is kept as well as other cross-sectional targets related to children. Ms. Santos Pais welcomed NGOs to continue working to ensure that clear indicators on violence against children are defined and included in the final agenda.
Ms. Santos Pais also updated the working group on her annual report to be presented to the Human Rights Council and about her upcoming visits to Malawi, where she will be supporting the launch of a new study commissioned by the Ministry of Gender, Children, Disability and Social Welfare, on the prevalence of violence against children in the country.
Ms. Santos Pais highlighted several relevant topics on her agenda for the upcoming months, as for example children and justice, bullying and cyber bullying, sports and media.
The SRSG/VAC welcomed the collaboration with NGOs and expressed her interest to continue working with them in Geneva and elsewhere.
The meeting with the SRSG/VAC was organized in the framework of the 2015 work plan of the Working Group on Children and Violence of Child Rights Connect.